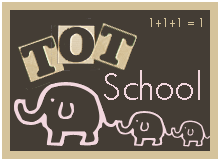 If you would like to see what other tots have been up to this week visit
D loves his Old Lady Who Swallowed a Fly book.
The book came with the old lady and bean bag animals that you stuff into her mouth.
I made these for D to sort upper and lower case A's. He didn't want anything to do with them. Maybe another day.
He won't cut unless I hold the paper for him. Hopefully that will change soon.
I found these, Build Your Own Monsters, at the $ spot in Target. He loved them. I did too. I hope they still have them when we go back. I will get more for next year.
Didn't they come out so cute. He designed them all by himself.
We are going to do a letter a week. I have seen this alligator project around a lot. It was his idea to trace the inside of the A.
Playing store is one of D's favorite activities. Most things sold for 42 cents but, I did have to buy a pillow for $56 and I got a great cup of coffee for only a penny.
Just a quick apple sequencing activity.
I haven't taken the time to learn how to post/attach a PDF file to my blog so, if anyone wants anything I would have to send an attachment via email. Someday I will learn. Thanks to all of you that do put attachments on your posts.