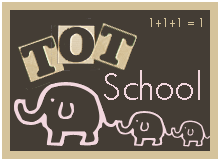 If you would like to see what other tots have been up to this week visit
1+1+1=1
I wanted to work on patterns but, D would not hear of it. He only wanted to match like erasers and stack them.


Practicing pouring and of course, washing dishes.


This is one of D's favorites.


Listening to

Blueberries for Sal

. One of my all time favorites.


This is one of File Folder Fun newer games called Monster Manners
.


It was a great addition to our week.


I have seen a bunch of posts with a felt board activity

similar

to this. I can't remember where I saw it and I hate not giving people credit. Sorry.


N had to jump in and make one of his own. D's is on the left and N's is on the right. N taught D that if you turn some of the mouths upside down they look like mustaches. Cool. I would have never thought of that.


These are just cards that I picked up from the Target $ Spot earlier this fall.


The pack came with opposites, shapes and colors. We are just using the opposites today.

A sequencing activity. Again, I have not taken the time to figure out how to do

PDFs

so, if you want this one email me.

Hope you all had a great week!