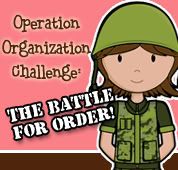 In case you missed it, Melinda over at
Coming Clean
is hosting an 8 week long Organization Challenge. This is week 4.

I was all ready to post yesterday but, for some reason the computer was not being agreeable and would not let me post.

These 2 areas were pretty easy clean ups. I did get rid of a ton of old
hand towels
. I am not sure why we
accumulated
so many.
My
scrapbooking
area is next. This place is so disorganized. It needs a lot of help.