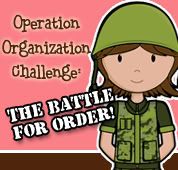 In case you missed it, Melinda over at
Coming Clean
is hosting an 8 week long Organization Challenge. This is week 3. I was supposed to post this yesterday but I just never got around to it.
My challenge last week was to clean up my laundry room and craft supply area. It was messy,
messy.

The top of my dryer was covered with unfolded socks. I loathe folding socks. So, I sat down and started folding. The 2 little garbage cans on top of the dryer will be used to put socks in. One for kiddos and 1 for hubby and I. My daughter painted the flowers on the one.

This is my basement linen closet, where I keep all of our sheets and blankets. Another thing I loathe is folding fitted sheets. I just can't make them neat like my grandmother used to. UGH

These are the cabinets that are above my washer and dryer. They were a mess. Now I actually have room to put other stuff in there. I will probably put some of the stuff that is under my kitchen sink in here.

Under my kitchen sink. MESSY. I obviously can't keep anything clean and organized. This is my challenge for next week.