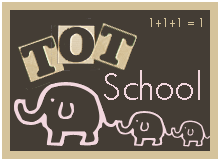 If you would like to see what other tots have been up to this week visit
1+1+1=1

All printables can be found on my March 22nd post.
This was a flip book we made this week. You cut all of the pages apart except the front and back covers. Then you attach them together with rings.
I didn't have the correct rings so I used 2 key rings and a chain. I would advise getting the rings that come apart. These were hard to get on the paper. But it worked well enough.
Making Easter cards.

Happy Easter.
Matching cracked eggs.
Do I come from an egg?
Working on fine motor skills.