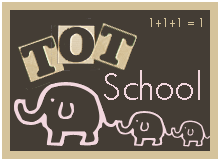 If you would like to see what other tots have been up to this week visit
1+1+1=1



We bought these foam ornaments from the Dollar Store.
The trees, snowmen and snowflakes are called table scatter. But, we glued them to the ornaments.


Many years ago Gram used to do daycare and she made a ton of stencils using cereal boxes. All of her grandkids have loved using them.
This is the giraffe that Gram and D made.
This is a monster/superhero maker that used to be my husband's and his brothers. You pick the legs, body and then head.

Next, you put a piece of paper over your template and color.
And viola. Your own superhero.

A used to have a Barbie one of these when she was little.
We love to play Memory.

Gram and D bought this (since ours is packed in NY) at D's favorite store,

Walmart

.

Wacky Gears. This is a little hard for D to do on his own.

So, it is a good project for us to do together.
Tot School at G & G's is so great because there are so many new things for us to explore.