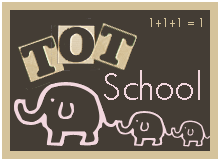 We had a busy week. However, any time we work on pre-handwriting things, like tracing lines D says he can't do it and gets really whinny. Any ideas what to do? He definitely prefers the hands on manipulatives best. But some times even when he is sticking stickers he asks me to finish for him. Should we stop the activity or should I make him finish it?


Sticker Fun!
We found this activity at
Our Homeschool Fun
. D had a lot of fun mixing the toilet paper and glue. We used one side of an old file folder because it seemed very sturdy.
Our paints seem to always turn brown. Go figure.

D said that this was a rainbow during a storm. Very creative guy.



I found this at a local thrift store. There are so many things I figured I could do with it.


I taped color squares to the front.

D used tweezers and matched the pom poms to the correct little box.

I had him open and close each little compartment himself. He did get a little bored by the end. There are 28 little boxes.