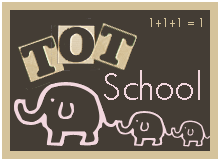 D LOVES doing mazes. We put them in page protectors and use a washable marker to help reduce waste.

Finger painting is a favorite in our house.
Brown again. D loves making it.
Sorting apples found at
Totally Tots
While driving, D often lets me know what I should do when we come to a stop light.

Tangrams
D created his own design and it came out looking like a fish. He was pretty proud.